Tamohara Corrects Lokanath Case Details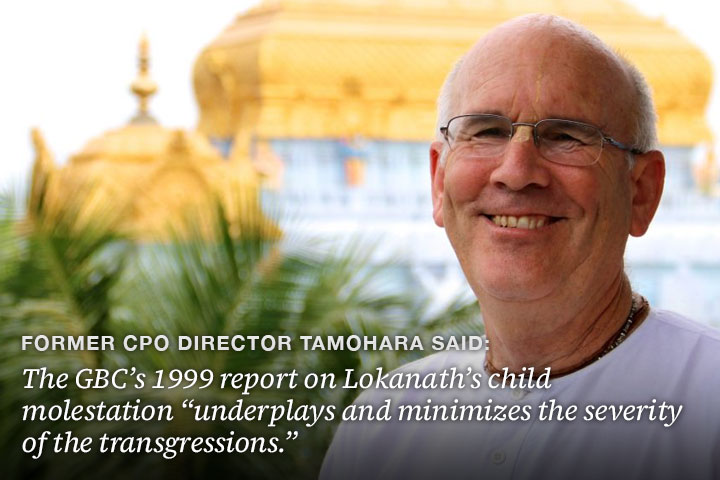 2011
Dear Maharajas and Prabhus,
Please accept my humble obeisances. All glories to Srila Prabhupada.
As the former CPO Director, I naturally had access to the complete files on the Lokanatha Swami case. As it is a very important piece of evidence, I am attaching the transcript of the interview with the victim (11 year old girl). PLEASE KEEP THIS COMPLETELY CONFIDENTIAL!
While the official GBC report is technically correct, its careful wording tends to cast the incidents into a more favorable light. There are at least three specific instances where the wording of report underplays and minimizes the severity of the transgressions.
Also note that Lokanatha Maharaja's recent letter actually gives a more true account.
Here are the examples:
The report says, "Sometimes he would praise her by patting her and saying 'Very good.'"
The reality reported by the girl was that he rubbed her thigh.

The report says, "he said 'Go and take your shower!' and swatted her with his hand."
The report does not specifically mention that the swat was on her rear end.
The report says, "Lokanath Swami's hand touched and moved across the girl's upper thigh over her clothing."
What actually happened was that his hand was resting for some time (possibly up to a half hour) on her "private parts."
Please understand I am not advocating for one action or another, but wish to make sure that this committee is fully informed of the nature of the incidents.
Your servant,
Tamohara das
541 total views, 2 views today