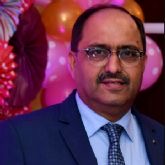 Lokanath's Lawsuit Against Child Protection Advocates
Since April 2021, Damodara dasa (Australia) and Saraswati dasi (North America) have asked the ISKCON GBC to follow their child protection laws and remove confessed child molester Lokanath "Swami" from leadership within ISKCON.
On November 24, 2022, Lokanath's lawyer Rakesh Taneja sent a Legal Notice to Damodara and Saraswati for "making false imputations" against Lokanath.
On February 23, 2023, Taneja filed a lawsuit on behalf of Lokanath, who signed over power of attorney to his disciple Sanaka Sanatana.
Lokanath said that their claim of him being a child abuser is fabricated, and asked for Rs. 2.25 Crores (US$272,272.00). This is despite ample documentation coming from his own ISKCON organization showing he sexually abused a child. (Also, in May 2022, the ISKCON Leadership Sexual Misconduct Office started an investigation of Lokanath raping one of his disciples, a second victim.)
154-page document from Lokanath's lawyer Taneja:
960 total views, 1 views today