Lokanath Swami Child Molestation Admission Letter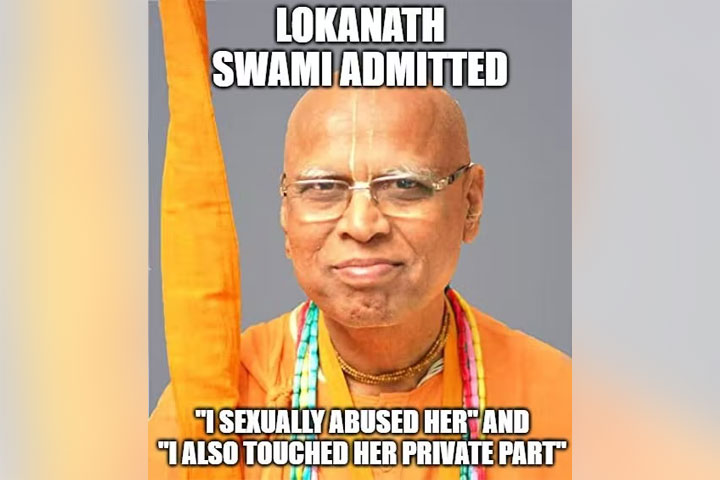 Please accept my humble obeisances. All glories to Srila Prabhupada. With this letter I would like to bring the following distressing and unfortunate matter to your attention.
In 1990 I was in the United States, staying at the house of a devotee family of Indian origin. During my visit, there were some very regrettable incidents that took place between me and their eleven and a half year old daughter Satya, in which I sexually abused her. I sincerely apologize for this despicable behavior on my part, which has caused Satya considerable grief and distress.
The circumstances of the incident are as follows: While I was leading the Worldwide Padayatra program, I suffered a broken leg. While recovering with my right leg in a cast, I stayed for about a week with the Indian devotee family. During this stay, the father frequently asked me to preach to members of his family, including Satya, and the incidents occurred in the course of my interactions with her. I would sometimes sit inappropriately close to her, and pat her when, for example, she played the harmonium very nicely.
I was also asked by Satya's father to wake her up on time each morning, as she would not listen to her father. One morning I noticed that she was running late. While chanting in my room, I saw her in the room directly opposite mine. She was still wearing a long T-shirt that she used as a nightgown. She was upset that I saw her dressed in this way. When I told her to go to take her shower, she ran into her room to hide from me. I made her come out, and as she ran past me. I then said, "Go and take your shower!" and slapped her on her rear end with my hand, which I acknowledge was completely unacceptable.
The incident that most distressed Satya, however, took place one morning in the living-room. As we sat reading together, I touched her right thigh and moved my hand between her knee and upper thigh, over her clothing. While I was touching her upper thigh region, I also touched her private part. Satya was clearly shocked and disturbed by this act, and I was immediately overcome by regret and shame at my actions.
My transgressions were not consciously planned. I realize, however, that had I kept strictly to the proper etiquette of a devotee and sannyasi, I would have been protected and would not have committed these reprehensible acts, for which there is no excuse, and which I regret beyond words.
In 1993, Satya brought these incidents to the attention of the GBC. In response, a committee of seven GBC members was promptly appointed to investigate her allegations. I was immediately suspended from initiating further disciples, and my movements within ISKCON were restricted. The GBC also instructed me to seek help from a group of mental health professionals specializing in child molestation.
The mental health professionals conducted an evaluation over several days that consisted of multiple clinical interviews, psychosocial and psychosexual histories, and various other tests. Some of the main conclusions of the professionals were as follows:
I am not a pedophile.

I do not pose a danger of overt sexual violence toward women and children.

The incidents occurred under unusual circumstances, with inadequate precautions. With proper counseling and strict oversight, I should be able to avoid a repeat of this behavior in the future.

I acted in a clearly inappropriate manner towards Satya. My actions subjected Satya to an extremely disturbing and traumatic experience common to victims of sexual abuse.
Satya was also interviewed by a professional female devotee specializing in child molestation. The results of that evaluation, however, are confidential.
After performing a complete investigation, the GBC Committee was very disturbed by my deviations, and suspended me from initiating for at least five years. They further ordered me to spend at least two months in Vrindavan in a mood of repentance. While in Vrindavan, I intensely prayed to Srila Prabhupada and Sri Sri Krsna Balarama for spiritual strength, so that such behavior never occurs again.. By the causeless mercy of Their Lordships, Srila Prabhupada and the Vaisnavas, my record has been spotless since 1990.
I have also sought forgiveness directly from Satya – both in writing and in person. I offered my obeisances and apologies to her in the presence of her brother, and the family at the time appeared satisfied. Satya was like a spiritual daughter to me. Because of false pride and arrogance, I disobeyed the firm commands of Sastra, and have suffered an unbearable reaction. I have sincerely learned my lesson.
I sincerely regret these incidents and am very much repentant. I again offer my heartfelt apologies for the pain and distress I have caused Satya, and pray that she and her family may forgive these terrible transgressions.
Praying for the mercy of the Vaisnavas, I remain,
Your worthless servant, Lokanath Swami
1,271 total views, 2 views today