2011 GBC Meeting Minutes SUMMARY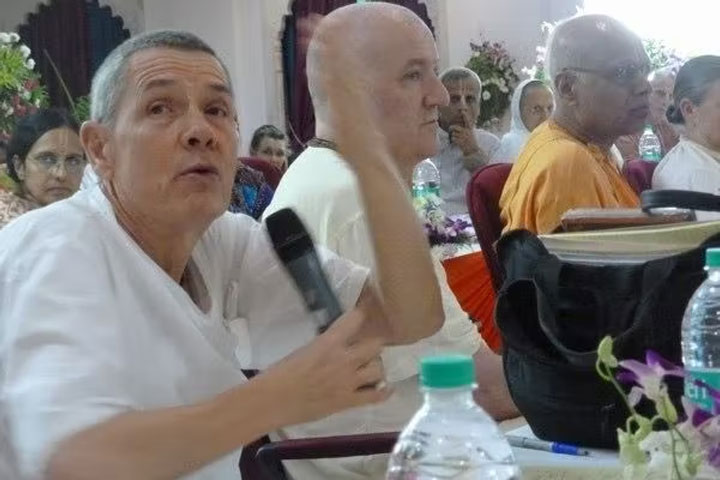 In 2010, Lokanath's victim Satya wrote a series of public statements aggrieved at Lokanath's prominent position in ISKCON. The GBC took notice and in their 2010 Meeting they discussed how to handle Lokanath's child molestation case (again).
The GBC realized that Lokanath had stopped disclosing to his disciples that he had molested a child, and the GBC agreed that a new letter should be given to Lokanath's disciples, which would explain the details of his sexual abuse of a child.
Some of the GBC members felt that more serious action was needed, and at that point, Lokanath agreed to step down completely as a guru.
A year later, in the 2011 GBC meeting, Lokanath changed his mind and wanted to stay a guru. Sesa gave a presentation at the GBC's October 2011 Meeting, on behalf of Lokanath, asking that the GBC disregard Lokanath's previous offer of voluntarily stepping down.
For many of the GBC members, this was the first time they were hearing the extent of Lokanath's sexual abuse. A discussion followed about how Lokanath had not been forthcoming to his disciples, had intentionally minimized the details of what he had done, and how he was extremely attached to his status as a guru. Some of the GBC members felt it would be against moral principles to have ISKCON endorse a child molester as a guru.
Key quotes from the 2011 GBC Meeting Minutes:
Bhakti Caitanya Swami: "The impression I had in mayapur was that he had not been forthcoming, had been reluctantly going along, maybe not disclosing facts…"
"He disclosed the severity in 1993, the 1997 letter doesn't have the same degree of candour as Maharaja own statements because the committee felt that the instance should not destroy his life. They said that."
Badrinarayan: "whatever gbc decides, let it be decided on fact. . . we have repeatedly been put in this position. I hope I never have to repeat. Here is what happened: lok told me at the time, sesa was not present at the time, many facts have been edited out from both sides, we have danced around the issue. Here is what happened. I hate saying this."
"Lok was sitting on the couch with this could, took his hand, felt her vagina, he moved his hand back after she moved it away, and felt her out as they say, he admitted he was overcome by lusty desires, that's what he told me."
"That is the core event."
"At every moment there has been haggling, he wasn't necessarily straightforward, haggling, pressure over every single word, when we asked way back about the letter for initiations, it was pushing, we told him at least you have to tell disciples, not because of pressure on internet or expediency, but it was because we didn't want disciples who were angry we didn't tell them. Others were angry too. We said at least write a letter so disciples can have an informed choice so they don't feel cheated by iskcon and gbc. We haggled. The graph of disparity is not because gbc was ambivalent, but under pressure of him and others, and out of respect for him, that's one reason you have the fluctuation. That letter, there were agruments, is it just for the west, just for usa, NO, you have to do to all,"
"It was reluctantly, anemically, and faded out. Embarrassing for him and he let it fade out. But he is responsible. That is history. There was a quote from the psychological review was that lok cannot envision himself not being a guru, may have a breakdown."
"If you strip away the wrangling, you have his burning desire to initiate. Here are gbc members, sannyasis, who don't intitiate. They are able to give significant shelter for years. I have helped ppl become devotees, trained, who see me as more important than their diksa guru. The idea that if I can't initiate I can't preach or initiate is not a fact."
"because of his burning desire to initiate, this is coming up again and again. Mud thrown on him, gbc, ISKCON, again it will be on sampradaya sun. again giving them tool and again faith is broken of devotees."
"If lok had followed the original good advice. The gbc frankly tried to help and protect him by bending over backwards, if he had sustained that agreement we could have protected. If he had followed the advice from mayapur, maybe in 10 years we would have begged him to initiate. He keeps opening the wound and it never heals because he cannot breathe without initiating. He couldn't take the first good advice or second. Be like Bhisma, be noble. You would be honoured and we would all be relieved."
"Dds was given same opportunity, he couldn't. bsst made a vow, he stole a mango, said I cannot taken for rest of life. If he took that advice in past, or last year, or now, all he has to say is I made a mistake it was big though long ago, he will be glorified honoured and respected."
"The letters we heard from other gbcs are based on inaccuracies, if the body decides he should initiate, if he cannot take the vow himself to not, I will accept it, it will be a relief. I abhor being in this position but let it be based on facts. I am sorry to put him in this position."
Badrinarayan to Lokanath: "May I never have to ask you this again, are you changing what you told me or is it factual? Either you are inaccurate now or then? You haggled over every single word. I touched her upper thigh, and that is what everyone thought, severity changed as previous versions were acquiesced to your desire and to protect your reputation. Upper thigh was your word, and you put your hand there, one time it was accidental, but that is not what happened, don't load the severity on the gbc, that came because of you. It became clear I think only now all are aware of what happened. Another example of your constant pressure the whole way."
Tamohara: "In one version, I hate to say it, but my reaction was it was a whitewash. The 93 or 97 watered it down so much so as to be almost unrecognized. Badri also was saying that from the beginning to get a stronger statement."
"The fact is most of gbc most ppl didn't know the details, even in amaypur 2 gbcs I spoke to were shocked. It isnt' your fault exactly. We came up with a list of proposals similar to yours. I was in the committee. When we went in the meeting, there was a complete split. Then some of your godbrothers spoke to you, I thought this would be such an embarrassment for you to give this lette, when you came back to step down, we all felt this sigh of relief. This is a solution. We don't want to come down on you, this was a great relief, an elegant solution."
"Now when I heard when you wanted to reopen it was like a wrench in my heart, etierh you or gbc or ISKCON will be embarrassed."
"One phrase is 'sole accidental mistake' that is an interesting thing to call child sexual abuse. You would be jailed in the us. Even if it was time, accidental perhaps. Now we have to defend a guru in our movement who was responsible for child sexual abuse. It is very difficult to defend this position to our devotees."
"I told you this before, maybe not so strongly, you said what has really changed, one big change is the cultural change. That maybe not fair to you but we know more aobut hese issues, lawsuits, we've gone thorugh bad publicity, losing practically a generation of devotees, so much pain from the way esp. we handled it all. What about our society and the overall effect?"
Praghosh: "As long as our movement allows the gurus to be seen in a certain way, which is way above any other religious organization, so elevated, sastric quotes on guru, when something like this happens to such a person, for me it means they cannot servie in that role in this life, it is impossible to defend."
"badri articulated that [Lokanath] is addicted to being a guru"
Romapada Swami: "this is the first time I hear the details, how can we vote that someone is a guru who did child sexual abuse. How can vote in favour of that in principle. How can we not follow our own resolutions?"
Prahladananda Swami: "the paper he handed out doesn't represent the truth which I just heard. Unless the paper explains what exactly went on for the disciples, it would be objectionable to water it down, that itself should be enough for him to not initiate."
Praghosh: "we have to work on principle. Some gurus are worshipped as god every year. You cannot then reinstate a person into that role who has done this out of lust. Ignoring sannyasa dharma, or devotee, then she 11, then putting his hand back. Can initiate again and worship as good as god? Major issues and problems."
Prabhavishnu Swami: "I agree with prag, I against this practice of putting diksa gurus on such a platform and it becomes an enormous drama when they do something wrong, I am surprised this has never been discussed on the body."
Bhaktimarga Swami: "it seems many of us are intoxicated with initiations, we need to discuss this, we are embarrassing ourselves every year."
498 total views, 1 views today