Bhakti Caitanya Swami's Involvement in the Lokanath Case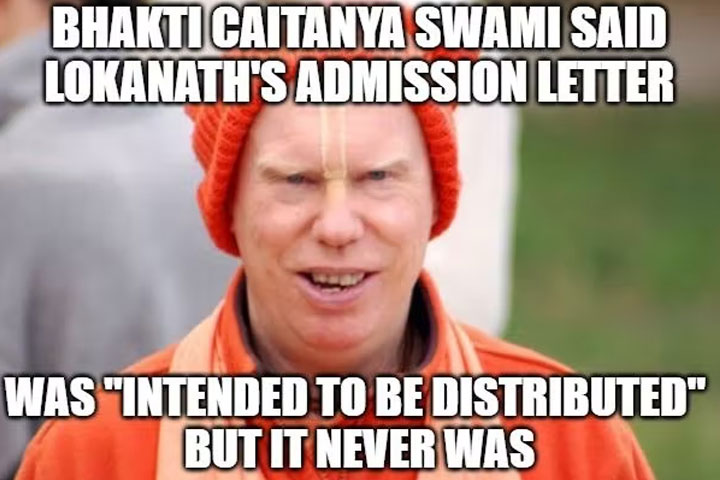 In July 2010, Lokanath's victim Satya wrote a series of compelling statements about her abuse, the 20 years of disregard given to the case, and lack of accountability for Lokanath.
Responding to Satya's public statements in 2010, the GBC Second Vice-Chairman Bhakti Caitanya Swami sat with Lokanath and helped him write an admission letter in which Lokanath stated, "I sexually abused her."
Earlier that year – at the GBC Mayapur meetings February 6-17, 2010 – Bhakti Caitanya Swami had been sworn in as GBC Second Vice-Chairman, part of the 3-member GBC Executive Committee which is rotated every year, out of 36 total GBC members. (The Chairman, First Vice-Chairman, and Second Vice-Chairman make up the three most powerful members of the Governing Body Commission.)
At next year's Mayapur meetings February 20-March 3, 2011, Bhakti Caitanya Swami moved up to become GBC First Vice-Chairman. In February 2011 he wrote:
"The letter Lokanatha Maharaja wrote last year, with input from myself and final editing by Amarendra prabhu, intended to be distributed to his disciples and aspiring disciples, as well as to ISKCON Temple Presidents and other relevant authorities who may deal with initiation recommendations, explaining what he recalls having happened, and apologizing for his transgressions in that regard."
However, this letter was never distributed.
At any point, Bhakti Caitanya Swami and the other GBC members could have given this case to the Child Protection Office for proper handling. Instead, the lies and cover-up were further perpetuated and dragged on for another 11 years, with just a small percentage of people in ISKCON knowing that Lokanath had sexually abused a child. It is 2021, 31 years after Lokanath sexually assaulted a child, and he continues to be worshipped as a sitting, active guru endorsed by ISKCON.
In 2021, Bhakti Caitanya Swami became the GBC Chairman (highest position in the GBC and ISKCON). He rightfully gave the Lokanath case to the Child Protection Office to handle, on May 12th, then secretly took it back 5 days later. No explanation was given. No reason, no justification for why this child abuse case stays clenched in the GBC's grasp, refusing to be released to ISKCON's own Child Protection Office.
In a leaked video Bhakti Caitanya Swami made it clear that he did not want the Lokanath case to be given to the ISKCON Child Protection Office:
"And if the panel somehow says that, you know, whatever has been done is enough, then as long as the GBC accepts that, then that's it."
This goes against the GBC's own policies which set up the Child Protection Office to have full and complete control over the handling of child abuse cases without interference from GBC members or other meddling leaders.
Bhakti Caitanya Swami has been neck deep in this scandal for over a decade now. Here we see the GBC is yet again protecting one of their own – guru, swami, GBC minister – while pretending to have some kind of process and transparency.
From an August 27, 2021 letter to Bhakti Caitanya Swami:
The panel is problematic, as you publicly stated in May that the Lokanath case would be handled by the ISKCON Child Protection Office. There is thus no valid reason why a panel needs to first determine whether a child abuse case should or should not go to the Child Protection Office. This goes against GBC policies. The GBC set up the CPO precisely to investigate accusations of child maltreatment in the most transparent manner possible. Adding this layer is therefore both unnecessary and unprecedented.
Secondly, the membership of the proposed panel is problematic and likely to result in bias. While you have two ICC members on the panel, there is not one person on there whose character and track record offers assurance that the interests of the victim are represented. Given this, the panel does not offer assurance that a fair process will be respected.
By intervening in this case, in violation of their own policies, the GBC look weak and duplicitous, and give the impression that they are skirting their own international child protection policy, compounding historic violations against children to protect powerful ISKCON leaders and gurus.
This is a case of child abuse. The reasoning that it was already handled has no merit, since it has never been reviewed by the Child Protection Office, as established by the GBC in May. Previous efforts by the GBC in this case have clearly been made to protect the perpetrator and the institution. In contrast, the CPO will consider all parties and procedures in a professional manner, which is its mandate. When the CPO was formed in 1998, the CPO reviewed ALL child abuse cases in ISKCON up to that point, including child abuse cases predating the formation of the CPO, such as child abuse in Mayapur in the 1970s, even though it had also been previously investigated by the GBC.
The Lokanath case has been mishandled 5 times over the last 3 decades by the GBC: 1993, 1998, 2012, 2017, and now again in 2021. The fact that it keeps recrudescing, is clear evidence that the way the GBC has been handling this case is unacceptable to the greater devotee community. The Child Protection Office is the only "panel" qualified, trained and designated to review this case. That is what they do. That is why they were formed. Taking power away from them is disgraceful and sends the message that the topmost authorities in Prabhupada's movement do not care about children, and that GBC policies don't apply to those who have friends in powerful places.
This case will never be put to rest until the GBC steps aside and allows the CPO to handle this case without interference. This preferential treatment being given to Lokanath Swami reeks of corruption and nepotism.
In 2007 the GBC RESOLVED:
"Whenever the ISKCON Central Office of Child Protection rules that an offense is such as to restrict a person from serving in ISKCON in positions of leadership (including but not limited to offices of GBC, minister, zonal secretary or temple officer), the restriction must include the position of initiating guru. This restriction shall apply to all previous and future decisions of the Central Office of Child Protection." https://gbc.iskcon.org/2007
The GBC investigated the Lokanath case originally and found what he did was sexual abuse to a child, therefore the GBC should follow their own resolution and remove Lokanath Swami from all positions of leadership. There is no hiding; there is no obfuscating the truth. More and more information with the Lokanath case will see the light of day. This will not go away.
Three things can not be hidden for long: the sun, the moon, the truth. Mistakes have been made, but they can be rectified. Although you were not one of the 7 GBC members on the original committee to investigate this case in 1993, your involvement in the 2010 Admission Letter should be acknowledged.
Anyone involved in the conspiracy to cover up Lokanath Swami's sexual abuse against the child Satya, needs to come clean and apologize. Devotees are forgiving. Especially when they see that the right thing is being done.
600 total views, 1 views today